2021 Golden Age awards gala - miami - october 2, 2021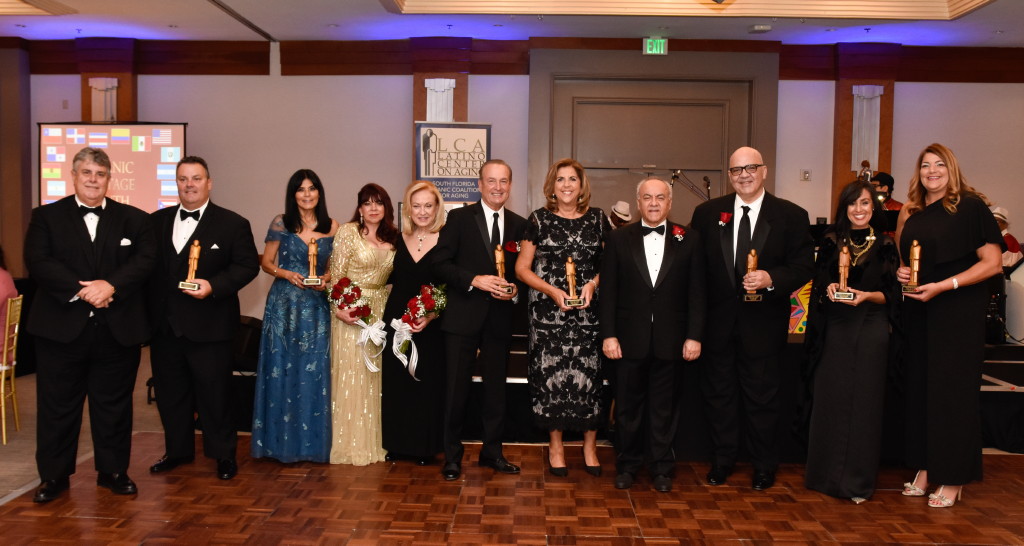 2021 golden age award recipients
The Latino Center on Aging (LCA) honored several outstanding South Floridians individuals at the Center's 30th Anniversary & 33rd Golden Age Awards Annual Banquet.  This event took place on October 2, 2021 at The Pullman Miami Airport Hotel, Miami, FL.
The 2021 Golden Age Award recipients were: Public Service Award – Governor Hon. Ron DeSantis, State of Florida "Seniors First" Initiative; Community Advocate Award – Com. Lourdes Aguirre, White House Hispanic Prosperity Commission; Community Leadership Award – Maria Hernandez, Sr. Program Officer, United Way of Broward; Community Service Award – Eliott Rodriguez, CBS 4, News Anchor; Corporate Award – Beatriz "Betty" Bel, Vice President of Operations, VITAS Healthcare; Education & Academic Excellence Award – Madeline Pumariega, President, Miami-Dade College; Humanitarian Award – Dr. Rafael J. Mas, Medical Director, Leon Medical Centers; Heroes Award – Dr. Jorge Vallejo (Posthumous); Heroes Award – Dr. Carlos "Charlie" Vallejo (Posthumous). The Hon. Josefina Carbonell from Independent Living Systems (ILS) and María Hidalgo from VITAS Healthcare were the event's Co-Chairs. Event's MC was Jessica Vallejo, CBS4 – News Personality.
The Banquet was an eventful black tie affair with extensive media coverage.
The Golden Age Awards were established in 1993 in New York and are given to individuals who have made significant contributions to the Latino/Hispanic communities throughout the world. Awards are given for effective leadership, lifetime contributions, public policy initiatives, corporate contributions and community involvement.
This year's event was sponsored by VITAS Healthcare, Independent Living Systems, United HomeCare, Leon Medical Centers, Advocate Health, City of Doral.
The Latino Center on Aging was founded in 1991 to enhance the living conditions of Hispanic elderly through education and advocacy. In South Florida the LCA has developed an intense activity during the past nine years by organizing a South Florida Advisory Board, a South Florida Hispanic Coalition for Aging and a weekly radio show on La Poderosa 670 AM. In addition, the LCA has organized and implemented seven conferences on Latinos and Alzheimer's in Spanish, four of them in Miami Lakes and Pembroke Pines.