Another dimensions of our educational outreach are conferences and seminars. The goal of these events is to provide a forum to address the varying issues affecting Latino seniors. We often collaborate with other organizations in the development of conferences and seminars.
conferences
LCA organized the first Northeastern Conference on Hispanic Elderly in Hartford, CT in 1992.  LCA organized in collaboration with the Catholic University of Valparaíso, the first Inter-American Conference on Gerontology, which was held in Viña del Mar, Chile, October 19-22, 1994.  The United Nations Programme on Ageing and the Foreign Relations Ministry of the Republic of Chile supported this important inter-hemispheric event.
We held a national conference between March 23 and 25, 1995, entitled, "The State of Nutrition and Entitlements: The Forgotten Citizen."  Sanctioned as a 1995 White House Conference on Aging, 250 Latino seniors and professionals from all regions of the country attended. A report on the conference findings was disseminated throughout the City, nationally, and to national policy makers and funders concerned with the status of Latino elderly.
LCA held the Second Inter-American Conference on Gerontology, focusing on hunger during the years 2000 and 2001. It took place in different areas of North, Centro and South America.
We work in conjunction with a number of public and private agencies as well as community based organizations in providing for the needs of the elderly. Some of them are:
Alamo Area Council of Governments, San Antonio, TX – ASI, Chicago, IL – Casa Boricua Senior Center, Bronx, NY – Casita Maria, Inc., New York, NY – East Harlem Council of Senior Centers – Edward R. Roybal Institute for Applied Gerontology, Los Angeles, CA – Goodard Riverside Community Center, New York, NY – Hispanic Family Center, Camden, NJ – Hispanic Providers Council, Chicago, IL  – Latino Elderly, Inc., Orlando, FL – Milwaukee County Department on Aging, Milwaukee, WI – Morris County Organization for Hispanic Affairs, Dover, NJ – Mount Sinai Medical Center, New York, NY – National Diversity Concepts, Washington, D.C. – Norris Square Senior Center, Philadelphia, PA – New Jersey City University – New Jersey Division on Aging – New York City Department for the Aging – New York State Office for the Aging – Neighborhood SHOPP – Bronx Borough President's Office – Project S.O.S., Bronx Community College, Bronx, NY – Saint Vincent de Paul Residence, Bronx, NY – RAIN Multi Service – Sociedad de Gerontología de Puerto Rico – Southside Care Management & Home Care, Brooklyn, NY – University of Texas Health Science Center, San Antonio, TX.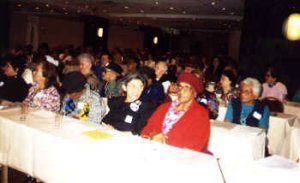 seminars
Series of Community Education Courses (Since 1999)
Older Latinos Gave Best Mark to LCA's Courses
With the active participation of Latino seniors, caregivers and professionals coming from Queens, Brooklyn, South Bronx and East Harlem (Barrio), the series of free community educational seminars offered by LCA have continued.
The first courses were held during the Spring of 1999, one versed on the importance for Latinos to participate in the Census 2000, particularly due to the undercount experienced by Latinos in the census of 1990, in the second course the effects of Alzheimer's Disease on the Latino family.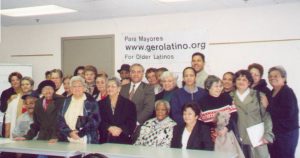 faculty
LCA has been extremely fortunate to have a faculty of excellence, which includes the following outstanding professionals:
Ms. Carmen Aponte – Dr. Steven Applewhite – Dr. Maria Aranda – Ms. Lourdes Birba – Ms. Bethsaida Colon – Ms. Doris Colon – Dr. Davide Espino – Mr. Angelo Falcon – Ms. Elizabeth Figueroa – Mr. Fernando Fernandez – Mr. Ray Figueroa – Der. Celina Gomez – Dr. Adela Herrera – Prof. Gladys Jimenez – Dr. Rafael Lantigua – Dr. Nelson Peralta – Dr. Fernando Morales – Prof. Carlos Navarrete – Dr. Felix Nallim – Prof. Marialcira Quintero – Prof. Diana Roman – Ms. Adriene Rosell – Dr. Carlos Rueda – Dr. Melba Sanchez – Dr. Carmen D. Sanchez – Dr. Melissa Talamantes – Dr. Fernando Torres-Gil – Ms. Sara Vidal –